Carnet 01
Carnet 01 is a major citizen mobilization project launched by Maison de la Culture Marie-Uguay for artist expression in the Sud-Ouest borough. The exhibition presents more than 508 notebooks completed by citizens of Montreal. Of this number, more than 40 notebooks were completed by professional artists from several artistic disciplines: visual art, digital art, choreography, dance, animation, illustration, sculpture, music and composition. Distributed in the summer of 2020, the carnets were to be completed and handed in to Maison de la Culture by October of 2020.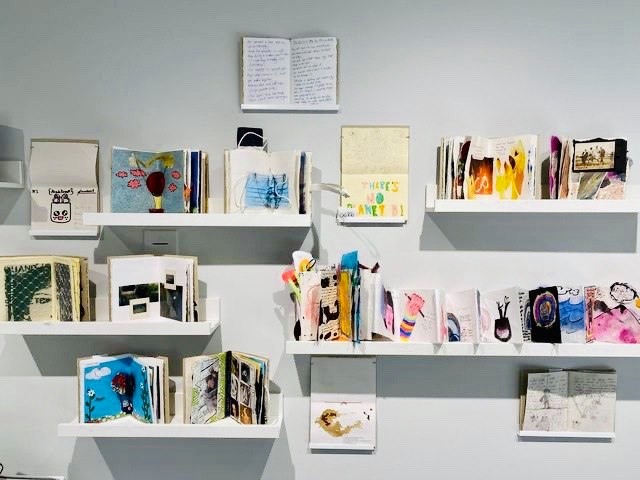 Photos courtesy of https://www.facebook.com/marieuguay
When my own carnet was offered to me, it felt like a story that was meant to be written. It captures a moment in time. I kept the blank book safe and untouched for weeks as I gathered the courage to make my mark on it. I worked my way to the halfway point, where a red thread binds the book perfectly together, handcrafted by the artisans at Papeterie Saint-Gilles, in Saint-Joseph-de-la-Rive, Quebec. By chance this Papeterie happens to overlook the departure point for the ferry to L'Isle-aux-Coudres. I had already traced this (new, to me) map before, in January of 2020, and I would revisit it again and again after recieving and transforming my carnet. This book witnessed me cross many different landscapes, both internal and external.
Carnet #0012 by Mary Mulderry MacIsaac
I am sincerely honoured to be a part of this initiative. All these 500+ carnets, including mine, have been gathered in a single exhibition at Maison de la Culture – Marie Uguay from February 2021- August 2021. Go take in and explore the multifaceted artistic expressions of the people of this city. Admission is free.